…..grow banks of Goodenia ovata, and when the flowers are producing nectar they are a magnet for many types of insect and their predators. Bees, both native and feral, butterflies, moths, hoverflies and others, etc. etc. etc.
Some pictures from a recent excursion, firstly native bees, Exoneura and Lasioglossum species.
Exoneura sp.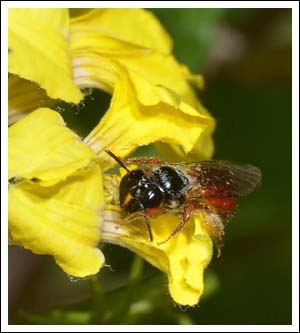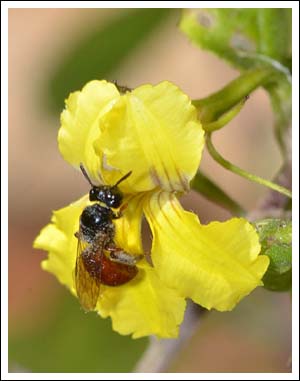 Lasioglossum sp.
Butterflies were in numbers, Painted Ladies in the main, but there were also some that were much more interesting, eg. Doubleday's or Lilac Grass-skipper, Toxidia doubledayi, family Hesperidae. The wing markings show that these are male butterflies.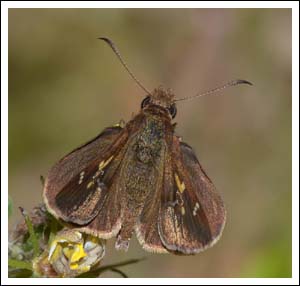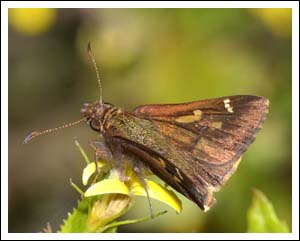 Two blue species, family Lycaeindae, were nectaring, the Fringed Heath-blue, Neolucia agricola agricola, and the Common Grass-blue, Zizina labradus labradus. The larval food plants of the former are Daviesia species and D. leptophylla is common along the track.
Fringed Heath-blue.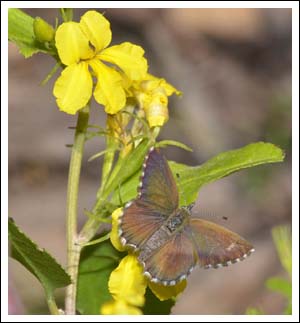 Common Grass-blue.
Moths in the Noctuid family eg. Helicoverpa sp.were nectaring, although elusive, this small Oecophorid, Ocystola paulinella was cooperative, although pretending it wasn't there.
A brightly coloured flying creature was followed until it landed, a leaf eating beetle.
And the predators, a robber fly with native bee prey,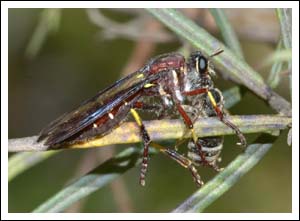 And a wasp that had just dropped its wingless female.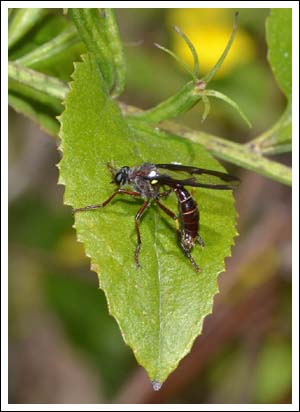 Click images to enlarge the wonderful world of invertebrates.