Two severe frosts have caused havoc in the garden, nearly all the Hakea, Grevillea, and Kunzea baxteri flowers have been destroyed, and the foliage  of many shrubs badly damaged. Even the foliage of the Lemon-scented Teatree, L. petersonii, is browned off to a height of almost three metres. Consequently honeyeaters have become scarce, although there are still plenty of correa flowers for the occasional spinebill. That said though, a couple of New Hollands flew in and found sustenance in a camellia in our neighbour's garden.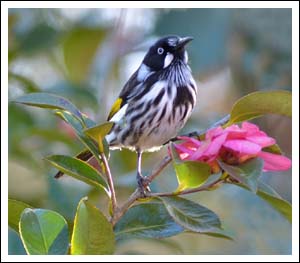 The Grevillea Moonlight overhangs the big Hakea Burrendong Beauty, where there were thirty odd Spiny Spiders during the warmer months. They are long gone of course, but in the grevillea there are reminders of their stay, numerous egg sacs ready to renew the population next season. Another small wonder from the world of spiders.
The Grey Shrike-thrushes and Scarlet Robins are still enjoying life in the garden and nearby, very confiding and tolerant of the photographer.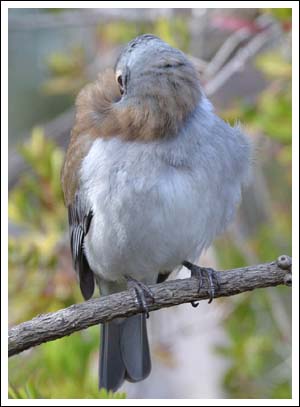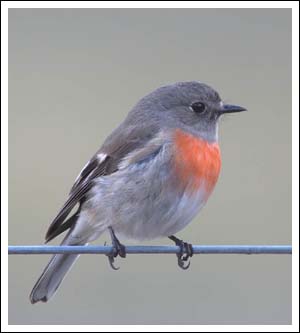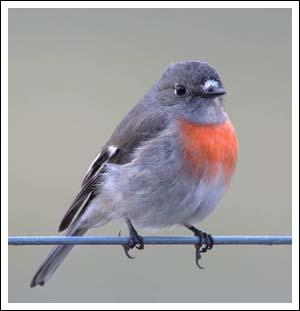 Even though living and nesting in close proximity to the humans, the Willie Wagtails never seem to become as trusting, maintaining a healthy degree of suspicion.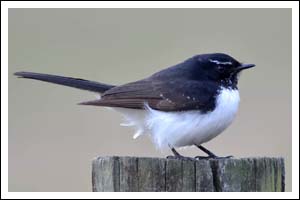 The Yellow-rumped Thornbills in the garden flock don't pay much attention to the photographer, but getting a good shot as they hop about incessantly gathering food can be difficult. This one landed on a wire giving a brief opportunity.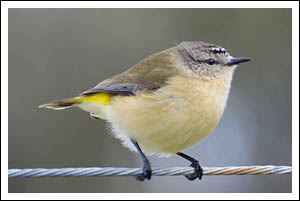 This Grey Fan didn't think much of the cold wind….
Click to enlarge.