Not all Australian fauna has been negatively affected by European settlement, just look at spiders that have turned the tables and colonised our buildings! Jumping spiders, family Salticidae, roam and live on our our brick walls very happily, and have been the subject of many photographs.
On the carport wall hangs an old thermometer,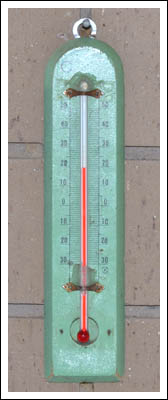 and recently the sharp eyes of the lady of the house spotted a tiny jumper, barely 3mm long sitting on it. A couple of days later we had a look and it was still there, so we moved it to the bonnet of the car to make it easier to photograph.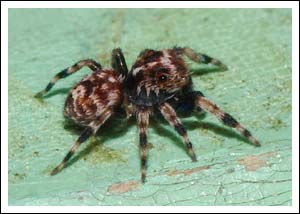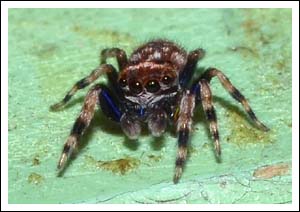 And on the car bonnet,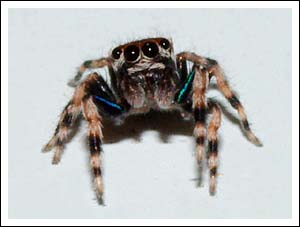 A few days later, this time with a 2x extender on the macro lens, we set up the tripod to take some more shots. We removed the thermometer and were privileged to witness the following interaction between the male and a female in her silken retreat. Robert Whyte, co-author of the forthcoming book, A Field Guide to the Spiders of Australia, informed me and I quote, "Salties often live under bark and make a retreat with a film of silk, in which they live and lay eggs, staying inside this egg sac retreat combo with the eggs. It must think the thermometer is a bark-like habitat and get plenty of food from that base" The male started to approach the female from the right hand side, then changed its mind and moved to the left. it gradually approached to the point of touching her, but was then repelled and moved away.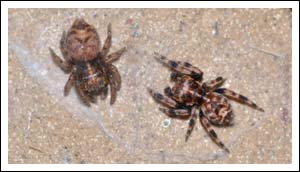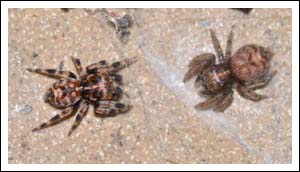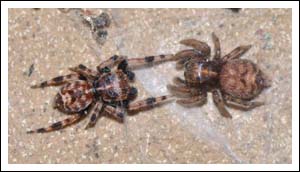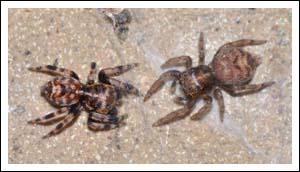 This spider is probably an undescribed Salpesia species.
Thanks to Robert Whyte for identification and information.
Click images to enlarge.