Drought, fires with heavy palls of smoke, and then the welcome drought breaking rains have combined to make subjects for nature posts hard to come by, hence the lack of action during the last month. The usual influx of bush birds to the garden is yet to begin, but there have been some raptors about. Whistling Kites soaring overhead, and on one memorable occasion three Wedge-tailed Eagles circled low over the house before heading south. A Brown Goshawk has been sighted several times, and when doing some garden maintenance a carpet of feathers was discovered in a sheltered area between some shrubs, where a kill had been plucked. Some feathers were collected and the unfortunate meal was quickly identified as a species that has become quite common during the last few years, a Crested Pigeon. Parties of ten or more birds are often seen perched on power lines or feeding along the road verges. A pair had recently been seen near the garden, now there is just one.
The feathers showing purple colour and distinctive white tip edges.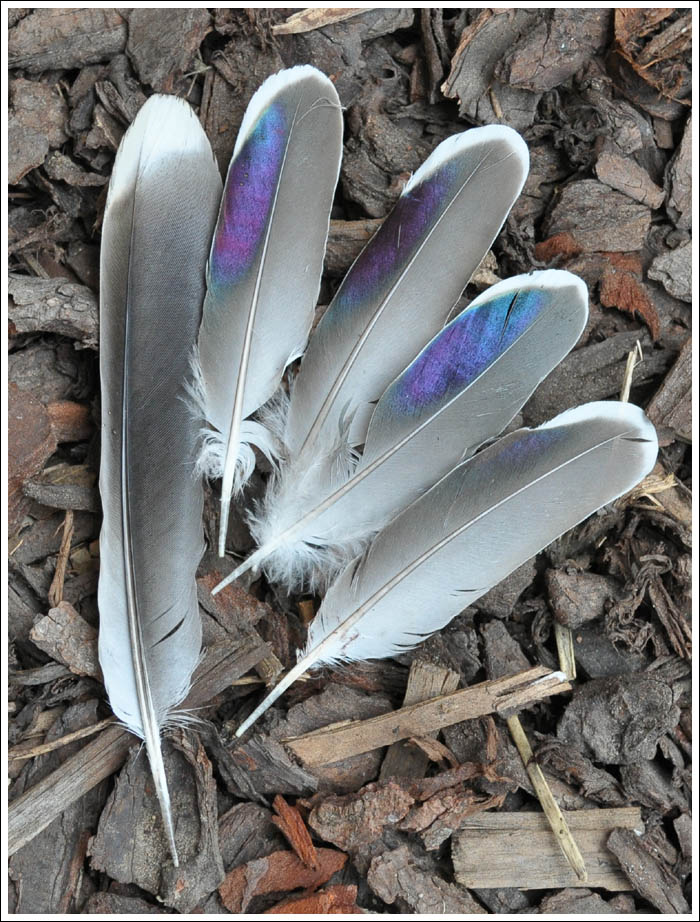 Cresteds with the bird on the right displaying similar wing feathers, click to enlarge.